Magnolia Place Condominiums
Tandang Sora Extension, Quezon City
by DMCI Homes
A PROJECT OF DMCI HOMES, THE PHILIPPINES FIRST TRIPLE A DEVELOPER
"A HOME THAT SOOTHES REFRESHES, INSPIRES. IMAGINE COMING HOME TO A REFRESHING HAVEN WITHOUT LEAVING THE SCENE. WHERE INTIMATE BONDING MOMENTS WITH YOUR FAMILY SPONTANEOUSLY HAPPEN.  WHERE INSPIRATION FLOURISHES WHEREVER YOU TURN. STEP INSIDE MAGNOLIA PLACE"
RENTALS/UNITS FOR LEASE
2 Bedroom Unit 42 sqm unit area + balcony Php 25,000.00 per month – FULLY FURNISHED
________________________________________________________________________________________
Magnolia Place is currently SOLD OUT.  The only way to get a unit is through reopenings.  Kindly get in touch with us to queue for re-opened units.  We need to register you before selling for re-openings starts.  Reopened units are for DECIDED BUYERS ONLY.
1. Willing to view the unit on the day reopenings are announced.
2. Selling starts the following day 9am.  Buyer should be already registered and ready to reserve with the necessary documents and reservation fee.
Tandang Sora Avenue Extension.

LIANA – RFO
HYACINTH and VERBENA – RFO
VERAWOOD – RFO
SOLANDRA – RFO
VICTORIA – RFO
DAPHNE – RFO
BURGUNDY – RFO
JASMINE – RFO
AZALEA – RFO
TULIP – RFO
IVY – RFO
I. STUDIO 
II. 2 BEDROOM BACK UNIT
List Price: P2,440,000.00
42 sqm Unit 7.5 sqm Balcony 7 sqm Service Area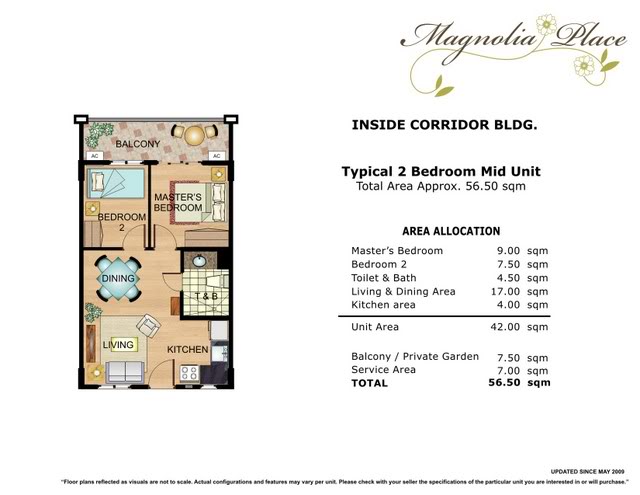 [iframe: scrolling='no' width='925′ height='890′ frameborder='0′ src='https://spreadsheets0.google.com/pub?key=0As_vH2YTH-CfdEMyR25sanR2TFV2WGc4TjJ2X1ZIVnc&single=true&gid=41&output=html&widget=true']
III. 2 BEDROOM FACING FRONT
List Price: P2,950,000.00
49.5 sqm Unit 7.5 sqm Balcony 9 sqm Service Area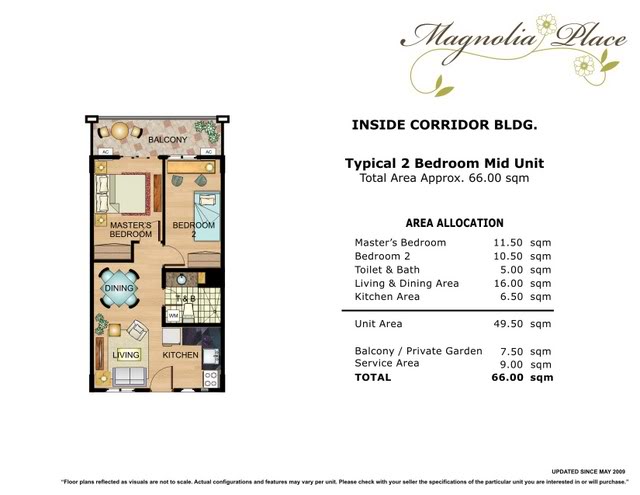 [iframe: scrolling='no' width='925′ height='890′ frameborder='0′ src='https://spreadsheets0.google.com/pub?key=0As_vH2YTH-CfdG96dExCalZyRldlaUo3VUZYcWlhLUE&single=true&gid=41&output=html&widget=true']
IV. 3 BEDROOM UNIT FACING BACK
List Price: P3,700,000.00
66 sqm Unit 15 sqm Balcony 9 sqm Service Area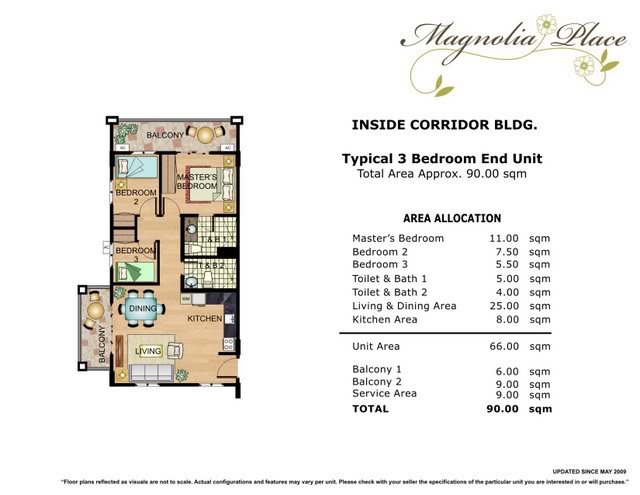 [iframe: scrolling='no' width='925′ height='890′ frameborder='0′ src='https://spreadsheets0.google.com/pub?key=0As_vH2YTH-CfdEhveDV3VDJfckJSNjlvd1NQSDJkWkE&single=true&gid=41&output=html&widget=true']
– Curvilinear Tree-lined Drive
– Water Feature at Rotunda
– Adult and Kiddie Pool
– Children's Playground
– Basketball Court
– Pocket Gardens


MODEL UNIT PHOTOS