This is one of the best designed townhouses we have in the Philippines today.  The Sofia features high ceilings even as you enter. It's basically 2 Bedrooms and 1 Maids. Some buyers opted to maximize the space to extend the patio to make it into another room. Some owners opted for a loft with with their Master's Bedroom. Some put a bar at the roof deck.



A PROJECT OF DMCI HOMES, THE PHILIPPINES FIRST TRIPLE A DEVELOPER!
"Mahogany Place III can hold claim to being the home village having the widest, pedestrian-friendly open spaces dedicated to tree-shaded parks, verdant gardens and landscaped amenities area offering a calming neighborhood setting ideal for active recreation, family interaction and private relaxation."


The Sofia Townhouse Mahogany Place 3
Sofia Townhouse
Three expansive bedrooms, front and rear floor-to-ceiling glass walls, toilet and bath for at rooms, two carports, oversized doors, high ceilings, efficient floor layout, a 100% usable garden roof deck, and apt sun shading-Sofia is all 183sqm of simply elegant and functional space. Quality control is a strict priority to ensure that units exceed our customers' high expectations. Homogeneous granite tiles, norm hardwood floor, solid panel doors, PVC windows, granite counters, laminated modular kitchens, stone accents, and other prime materials ensure a beautifully-finished home that is sure to please.

Sofia Townhouse Mahogany Place 3
Seal of Quality
Innovatively designed by Architect John Patrick Buensalido, constructed by a leading contractor in the country, and supported with the most comprehensive developer warranty known locally-our buyers can rest, be assured, that their homes are built to last.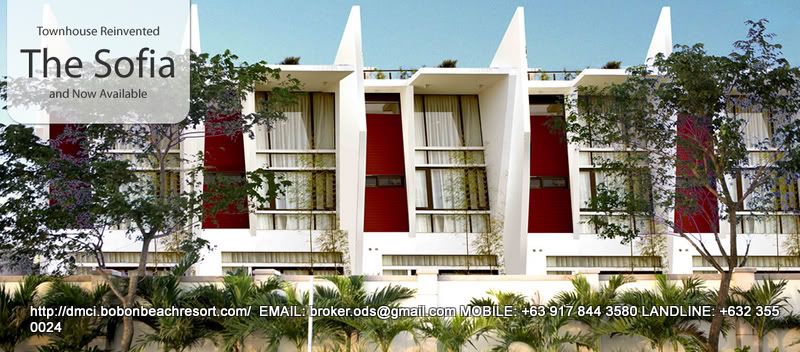 Sofia Townhouse Mahogany Place 3
More Accessible Than Ever
With unprecedented accessibility, Mahogany Place III is one of the few remaining locations within the metro where you can purchase prime house and lot. From here, it is easy travel to Fort Bonifacio Global City, Makati , SLEX. and Ortigas. And now, with the opening of the new Levi Mariano Avenue in Sept 2009, getting home from C5 is even easier. Just turn right and you're home. Market Market is just 5 minutes away, Makati is 10 minutes away, and Ortigas is 15 minutes away!
ACTUAL MODEL UNIT PHOTO
Gorgeous Inside and Out
Sofia is the townhouse reinvented to give you a fresh take on plush suburban living. With a design that is intimately fashioned to these modem times, Sofia is a remodeling of an old concept to create an abode that is both beautiful and efficient to streamlined perfection. Built to compact practicality, no detail of Sofia is irrelevant. Breaking through traditional townhouse architecture, Sofia has a 100% usable roof deck. We are literally taking you to new heights, wherein you can lounge in your very own roof garden and take pleasure in a panorama unobstructed.

We have endowed Sofia with the remarkable Green Architecture of Buensalido Architects to provide a truly rewarding abode for you. A group of maverick creators, Buensalido Architects always strive for ground-breaking solutions. Hence, the winged architecture of Sofia. Beyond visual stimulus, this design facilitates extensive cross ventilation while providing apt sun shading.

With first-class finishes of glass, wood and granite, the interiors of Sofia exude a quietly stated elegance that is both modem and timeless. The high ceilings, generously sized doorways, picturesque windows, and extensive glass panels maximize space and allow light to flood the interiors to make a truly warm and luxurious domestic dwelling. Moreover, every room has a bathroom and a scenic balcony for your convenient comfort and pleasure.
Succinctly innovative, Sofia embodies the perfect blend of fine form and functionality. Suburbia has never been this cool and cozy. Step up and come home to a greener living that is Sofia.

Exclusive, Private, Secure
Sofia is located within the enclave of Mahogany III, one of the most exclusive subdivision developments with only 298 home units spread across a vast 8 hectares of land. Designed after the comforts and benefits of a country club, Mahogany III houses a wide array of rest and recreational amenities that cater to your every leisure need. Gated access to the community and double security measures are in place 24/7 for your peace of mind.

Complete, Personalized
All Sofia units are delivered FULLY FINISHED. With an efficient and functional design, and beautiful finish, you simply have to bring in your belongings after unit turnover, and settle down to pure peace and comfort.
Township Central Bambang, Taguig City

Sofia Townhouse Bedroom
ACTUAL DINING AND KITCHEN

ACTUAL TOILET AND BATH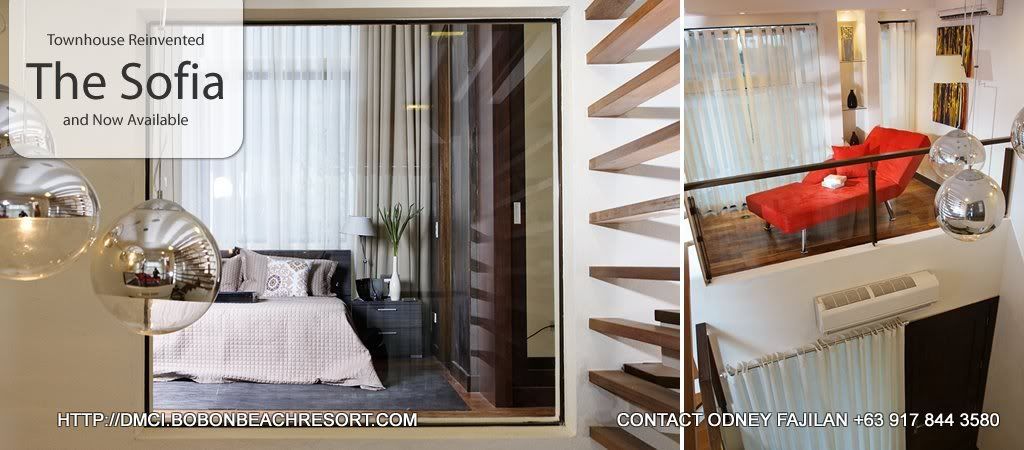 ACTUAL VIEW FROM THE THIRD FLOOR
ACTUAL ROOMS
ACTUAL SOFIA TOWNHOUSE ROOFDECK
SPECIFICATIONS AND LAYOUTS – You will need a PDF viewer to view the files
Sofia Specifications (60.3 KiB, 4,320 hits)
Sofia 3 Bedroom Cross Section (56.7 KiB, 4,105 hits)
Sofia 4 Bedroom Cross Section (59.4 KiB, 2,883 hits)
Sofia 3 Bedroom Floor Plan (164.1 KiB, 3,910 hits)
Sofia 4 Bedroom Floor Plan (172.9 KiB, 4,086 hits)
Sofia 3 Bedroom Floor Plan (Left End Unit) (158.0 KiB, 2,848 hits)
Sofia 3 Bedroom Floor Plan (Right End Unit) (158.5 KiB, 2,767 hits)
- For spot downpayment of 30%, RFO will be on the 13th month from payment of reservation, on the condition that1st DP is paid on time
- For 30% downpayment spread in 12 or 18 months, RFO date willbe on the 25th month from payment of reservation, on the condition that 1st DP is paid on time
- 4th Bedroom
- Plunge Pool
- Landscaped Garden Deck
- Bathtub
Ideally located in progressive Taguig City, Mahogany Place III is accessible via C-5 and is only a few minutes from Bonifacio Global City and the Makati Central Business District.
Area Distances (in KMS):
A. Business Districts
BGC – 3.65 Km
Makati – 7.50 Km
Ortigas – 8.14 Km
B. Commercial
Market! Market! – 3.65 Km
Bonifacio High Street – 4.03 Km
Greenbelt – 7.61 Km
Tiendesitas – 8.78 Km
C. Schools
International School – 4.06 Km
British School – 4.07 Km
Colegio de San Agustin – 5.14 Km
Assumption College – 8.01 Km
D. Hospitals
St. Luke's Hospital – BGC – 4.4 Km
Makati Medical Center – 9.18 Km
How To Get There:
Via C-5 (From Libis) – Exit at Bayani Road tunnel (near Heritage Park) to make a U-turn to C-5 Northbound lane. Drive straight to Petron-BCDA then make a right to Pamayanang Diego Silang Road. Follow the road and turn right to Levi Mariano Ave. Take another right at Acacia Road, corner of Rosewood Pointe, then drive straight until you reach Mahogany Place III.
Via EDSA (From SLEX) – From EDSA, turn right to McKinley Road. Take Lawton Ave. then turn left to Bayani Road (Heritage Park). Pass thru C-5 tunnel to enter C-5 Northbound lane. Drive straight to Petron-BCDA then make a right to Pamayanang Diego Silang Road. Follow the road and turn right to Levi Mariano Ave. Take another right at Acacia Road, corner of Rosewood Pointe, then drive straight until you reach Mahogany Place III.
Sofia (3BR Townhouse) : P6.818M – P8.50M
- 10% Discount on Full Cash Payment
- 30% Minimum Downpayment
- P50,000.00 Reservation Fee
NOTES:
* 75 sqm Lots are Mid-Units
* 105 sqm Lots are End-Units
* 4 Bedroom Units are upgrades of 3 Bedroom Units inclusive of Maids Room
If you have questions, maybe you can find the answers in our Frequently Asked Questions Section
OTHER MODELS (SOLD OUT):

Cielo
Townhouse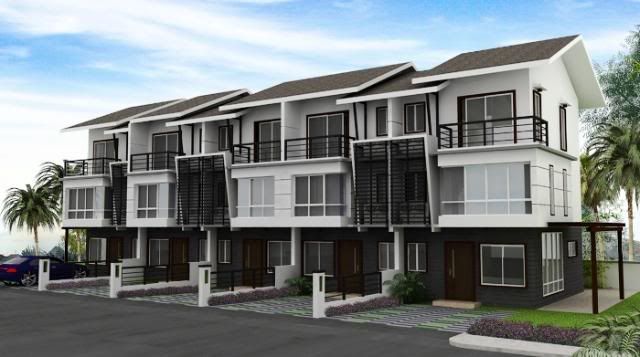 Helena