FLAIR TOWERS MANDALUYONG by DMCI HOMES
Turnover 2014
Find the perfect combination of homey comfort and modern in city living only in Flair Towers. Developed with the typical urban family in mind, Flair Towers offers the seamless blend of resort-like and country-club living. With approximately 70% of its land area allotted to amenities and buildings infused with the Lumiventt design technology, be one of the few to experience first class cosmopolitan living right in the heart of the Mandaluyong CBD.
FLAIR TOWERS by DMCI Homes Reliance Mandaluying
South Tower – February 2014
North Tower – December 2014
LOCATION MAP
The project is strategically located at Reliance corner Pines Street.  It's  accessible from EDSA but still offers a haven for stress-free, noise free and clean air living.
LOCATION MAP Address: Reliance corner Pines Street, Brgy. Highway Hills, Mandaluyong City How to get there: FROM MAKATI VIA EDSA Make a right turn at Reliance Street FROM BONI VIA PIONEER Make a left turn at Sheridan Street and another left turn to Reliance Street FROM ORTIGAS VIA SAN MIGUEL AVE. From San Miguel Ave, proceed to Mayflower Street, until the Intersection with Reliance Street
Address:
Reliance corner Pines Street, Brgy Highway Hills, Mandaluyong City
NEARBY ESTABLISHMENTS
With it's strategic location, most of the major schools, hospitals and commercial centers are easily accessible
GREEN LIVING DESIGN TECHNOLOGY
The Building that breathes.  With DMCI's new Lumiventt technology, as you exit your unit, you will notice the soothing breeze circulation within the hallways
SITE DEVELOPMENT PLAN
As with other DMCI projects, majority of the land area is dedicated to amenities, parks, playgrounds, pools.  Trees will adorn the central amenities area.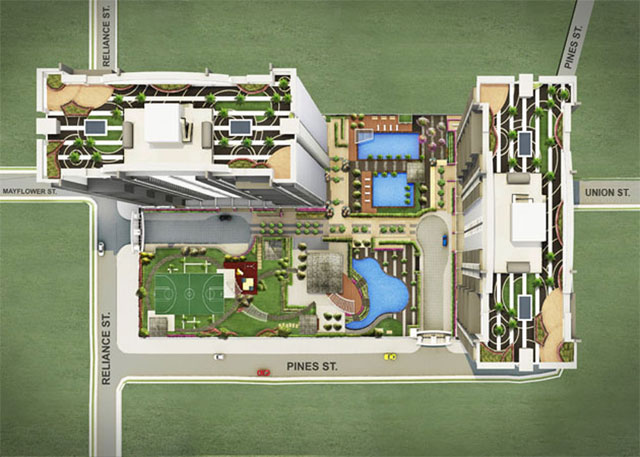 Flair Towers Site Development Plan
FLOOR PLANS
TYPICAL ATRIUM LEVEL
TYPICAL ATRIUM LEVEL


TYPICAL UPPER FLOORS
TYPICAL UPPER FLOORS
Note: Atrium is located at atrium levels
UNIT LAYOUTS AND COMPUTATIONS
Flair Towers Unit Layouts (956.0 KiB, 1,434 hits)
Studio UNIT 1.96M – 2.49M
1 Bedroom A    2.33M-3.28M
1 Bedroom B 2.29M-2.43M
2 Bedroom A

2 Bedroom B
2 Bedroom Deluxe    3.47M-4.29M – ONLY 10% DP PROMO for South Tower!

3 Bedroom      5.14M-5.72M – ONLY 10% DP PROMO for SOUTH TOWER!

OUTDOOR AMENITIES CONCEPT
ACTIVE ZONE
POOL ZONE
KIDDIE POOL