Another Project by DMCI the Philippines First Triple AAA Developer
Introducing…. The Redwoods DMCI
NEW AYALA MALL TO BE PUT UP WALKING DISTANCE!!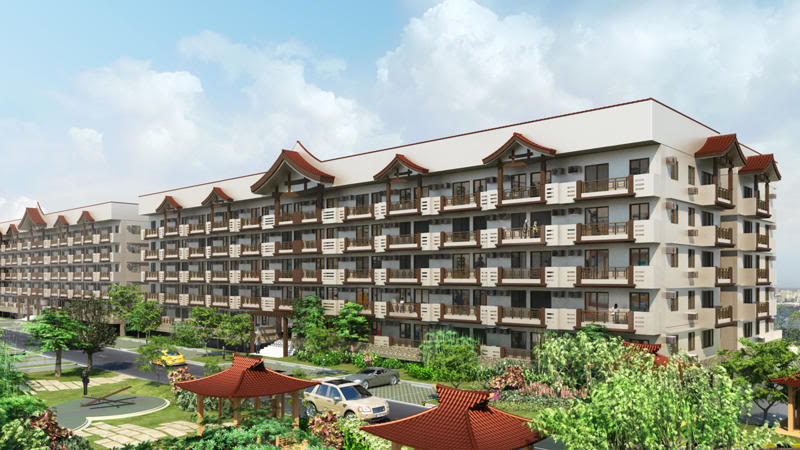 The Redwoods Fairview by DMCI
LOCATION: LOCATED JUST ACROSS SM FAIRVIEW.  A MINUTE'S WALK TO SM FAIRVIEW AND ROBINSONS MALL!!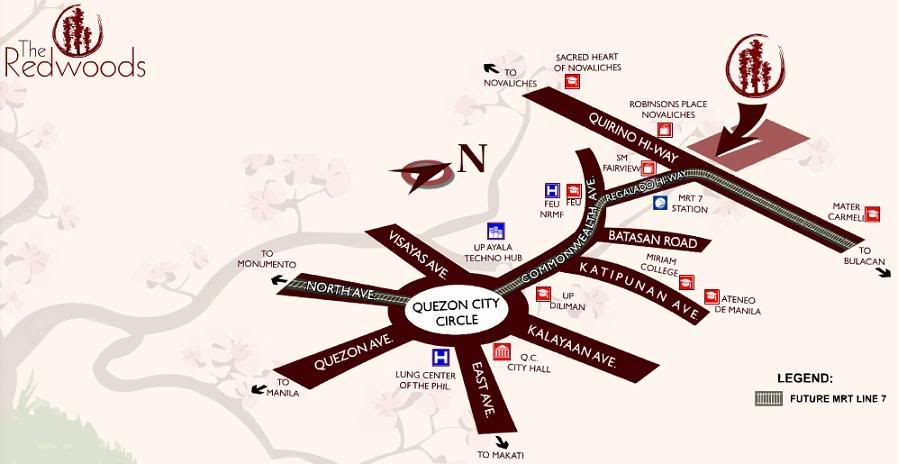 The Redwoods Fairview Map by DMCI
Key Distances:
Schools
School of St. Anthony – 0.8 km
Sacred Heart of Novaliches – 1.6 km
Mater Carmeli School – 1.6 km
University of the Philippines – 11.3 km
Ateneo de Manila University – 13 km
Hospitals
San Lorenzo General Hospital – 0.88 km
FEU NRMF Medical Center – 4.7 km
Churches
Iglesia ni Cristo – 0.77 km
Ascension of Our Lord Parish – 0.87 km
Mary the Queen Parish – 1.2 km
Commercial Centers
Trinoma – 15.2 km
SM North Edsa – 15.6 km
Araneta Center – 18.5 km
Wet Market
TARGET DATE:
MARCH 2011 CHI Building
MAY 2011 MIZU Building
JULY 2011 KAZE Building
DECEMBER 2011 KAJI Building
DECEMBER 2011 SORA Building
Inspired by the concept of Japanese "chashitsu" (tea house); where leisure, amusement, and social life revolve around meeting in a pavillon at the middle of a park or garden. The idea is to replicate the atmosphere of suburban charm where relaxation is centered on a simple conversation over a cup of tea and afterward strolling along the surrounding lawns, ponds, and landscaped gardens. The development hopes to create this setting to bring nature back into city living and diffuse the suffocating effect of urban stress.
Value Proposition Statement
The only Neo-Asian community in the
heart of Fairview that offers a
neighborhood of friendly faces amidst a
calm, healthy and unhurried environment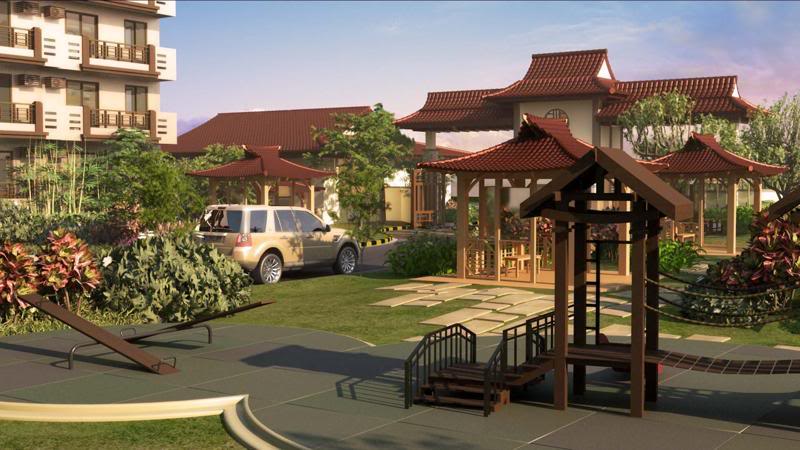 • Right across SM Fairview and Robinsons Mall
• In-village concessionaire & water station
• Strategic Location – Near schools, businesses, hospitals & churches
• Public transportation right outside the development and at the transport terminal of
• Future MRT-7 to be completed on 2013
• Neo-Asian architecture and theme
• Landscaping that evokes a relaxing and peaceful ambience
• Lap Pool, Kiddie Pool, Shower Areas, Basketball court, Playground,
Tea House Gazebos, Gardens, Gym, Game Room
• Lounge, Bar, Function Rooms, Entertainment Room, Covered Badminton
• Buffered frontage by trees and fence to provide a quiet, secure and relaxing
environment within the development.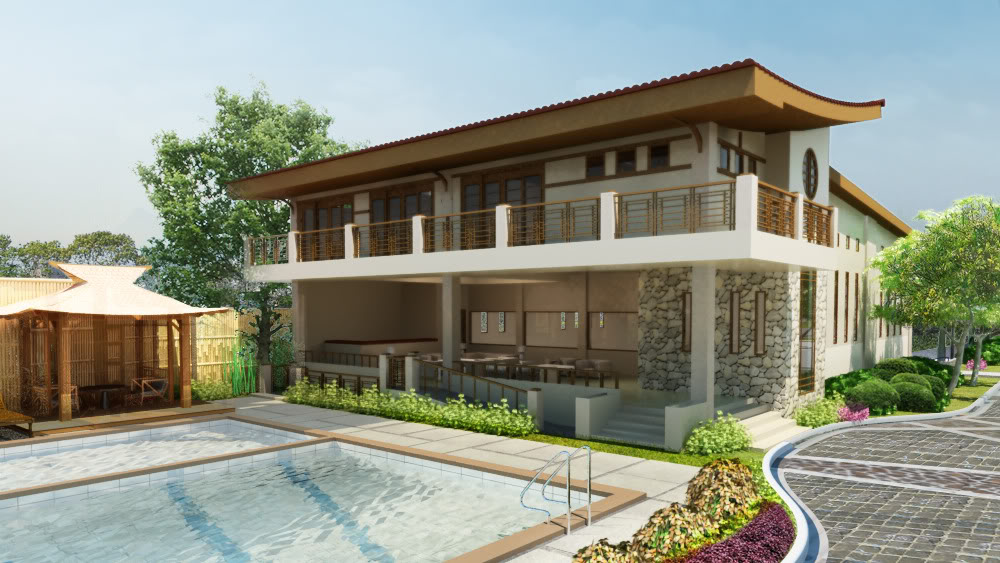 • Professional Property Management services
• General maintenance of common areas
• Utilities application and payment assistance
• Superior security features
• Electrified Perimeter Fence
• 24/7 Roving guard patrol
• DMCI Homes 55-year construction heritage
• The Redwoods will feature trademark innovations by DMCI Homes – the mid-rise
• Low density, five-storey condominiums
• Single-loaded, double row & single row buildings
• All units have balconies
• Hi-grade and durable fixtures and finishes
• Spacious and efficient condo unit layout that is ideal for the family lifestyle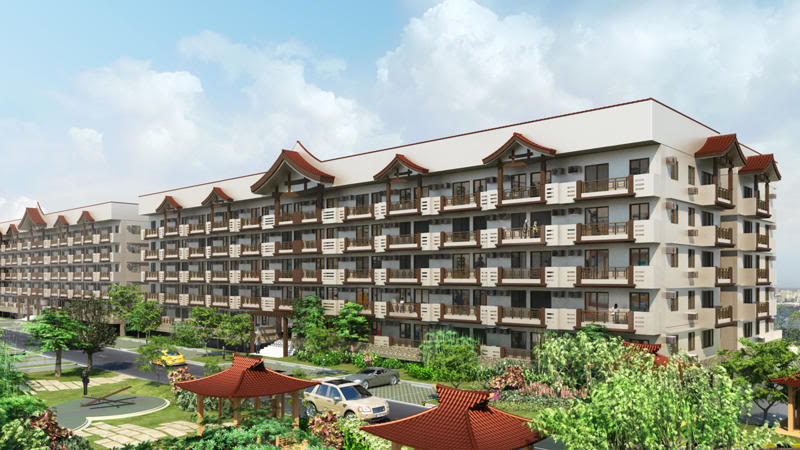 • Fairview will be the next growth area of Quezon City
• The completion of MRT-7 will boost accessibility of the area
• Sta. Lucia's Neopolitan Business Hub at the back of SM Fairview
• A source of recurring income through rental of the unit
• Fast real estate value appreciation due to highly-networked location and
professional property management of DMCI Homes
• The Redwoods will be a high quality development that will stand the test of
time and can be enjoyed by the family's future generations.
SITEMAP
Available Buidlings right now are:
CHI – MARCH 2011
MIZU – MAY 2011
KAZE – JULY 2011
KAJI – DECEMBER 2011
Kiddie Pool
Basketball Court
UNIT TYPES AND COMPUTATIONS
Studio Unit
[iframe: scrolling='no' width='730′ height='777′ frameborder='0′ src='https://docs.google.com/spreadsheet/pub?key=0As_vH2YTH-CfdFVLNjJudldiLW9YTkpJQ2xtbzc0aWc&output=html']
 2 Bedroom Back Unit 42 sqm Unit + 7 sqm Balcony + 9 sqm Service Area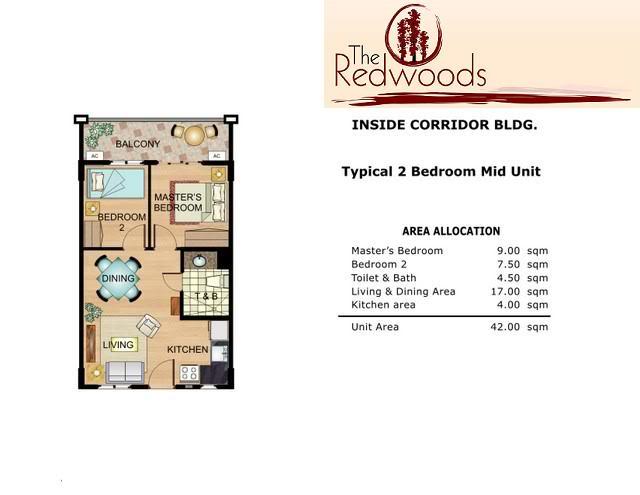 PROMO COMPUTATION
[iframe: scrolling='no' width='730′ height='777′ frameborder='0′ src='https://docs.google.com/spreadsheet/pub?key=0As_vH2YTH-CfdHhZc0ZmQ0RHb2JEUXdEVnpwY0xZSVE&output=html']
2 Bedroom Front Unit 49.5 sqm Unit + 7 sqm Balcony + 9 sqm Service Area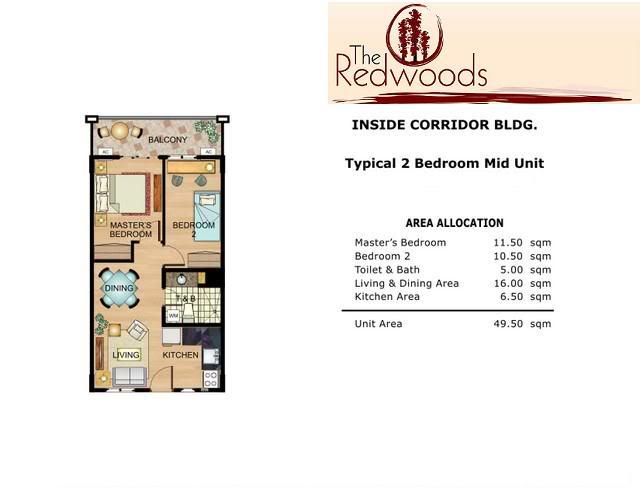 The Redwoods Fairview by DMCI
[iframe: scrolling='no' width='730′ height='777′ frameborder='0′ src='https://docs.google.com/spreadsheet/pub?key=0As_vH2YTH-CfdFJMZmgtWVZwTjkxaEp4RzBNLWRQOWc&output=html']
3 Bedroom Back Unit 63 sqm Unit + 10 sqm Balcony + 9 sqm Service Area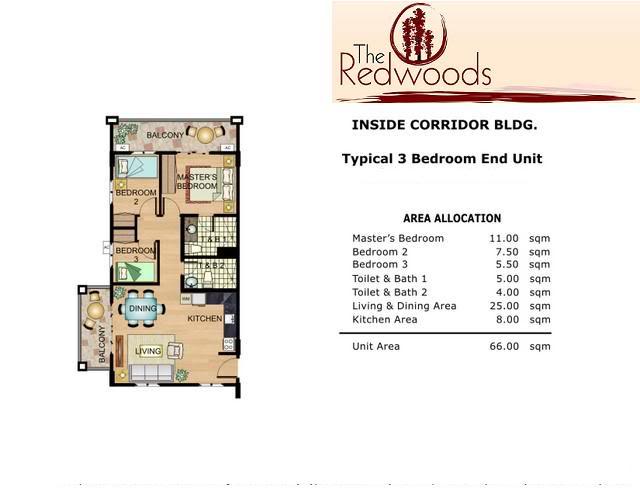 The Redwoods Fairview by DMCI
[iframe: scrolling='no' width='730′ height='777′ frameborder='0′ src='https://docs.google.com/spreadsheet/pub?key=0As_vH2YTH-CfdE1WbFZSYlpMNE1rRU83Q2JTTzBuemc&output=html']
3 Bedroom Front Unit 66 sqm Unit + 10 sqm Balcony + 9 sqm Service Area
[iframe: scrolling='no' width='730′ height='777′ frameborder='0′ src='https://docs.google.com/spreadsheet/pub?key=0As_vH2YTH-CfdDVLRjh6NU11dmNjY01JTkw5QVoxeEE&output=html']