LA VERTI Residences DMCI Taft Avenue, Pasay
by DMCI Homes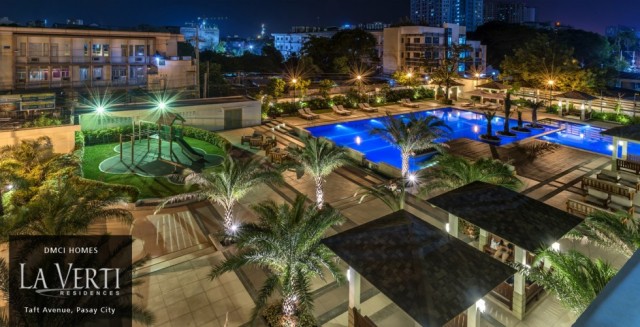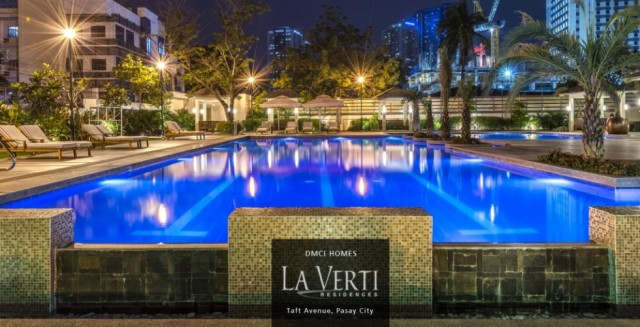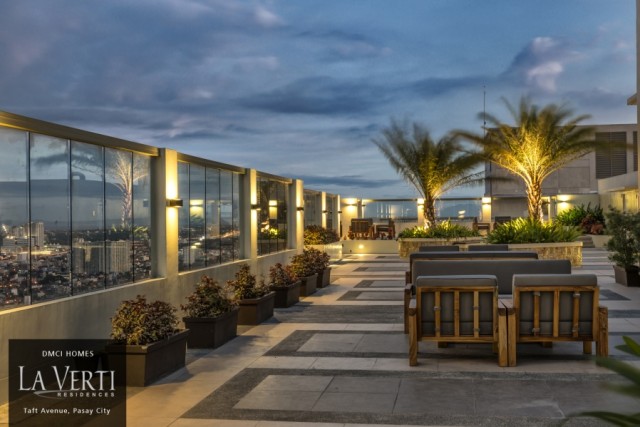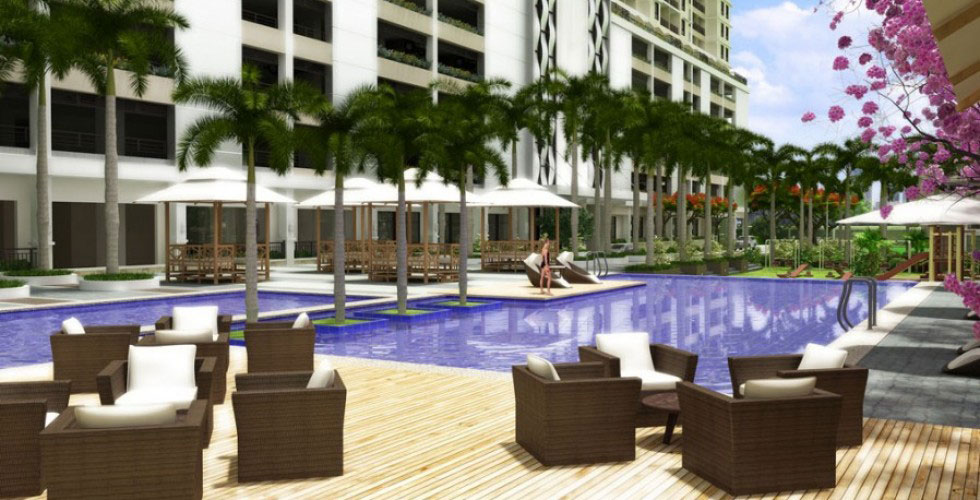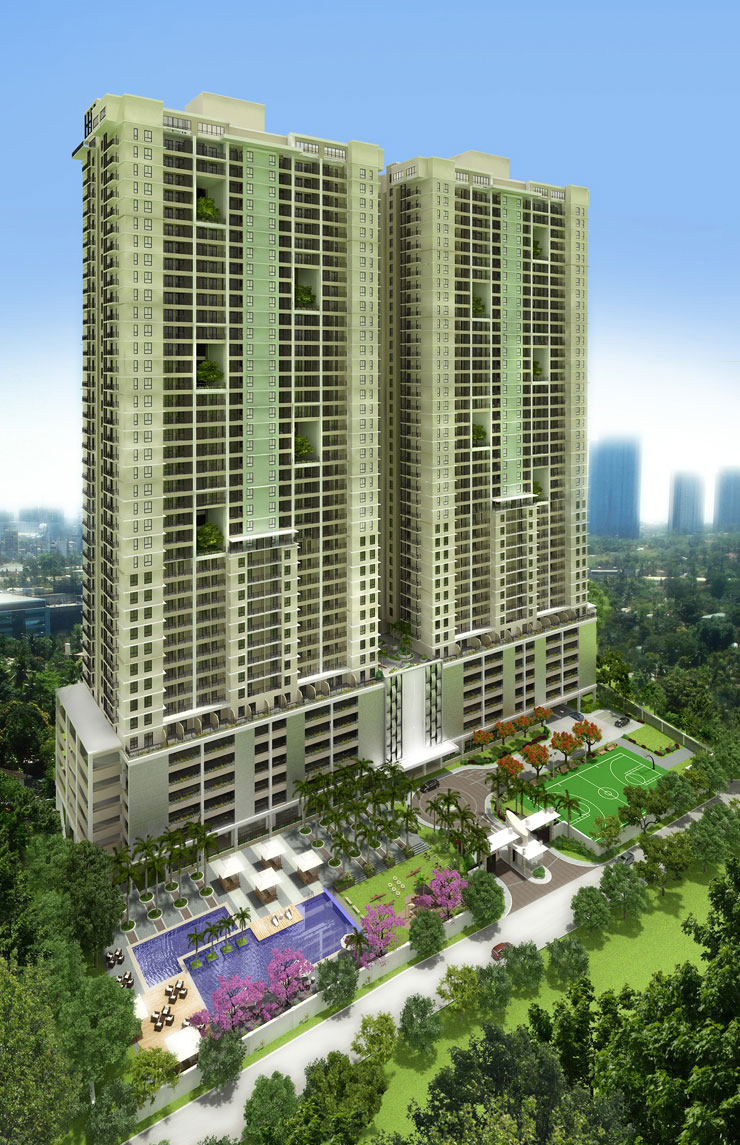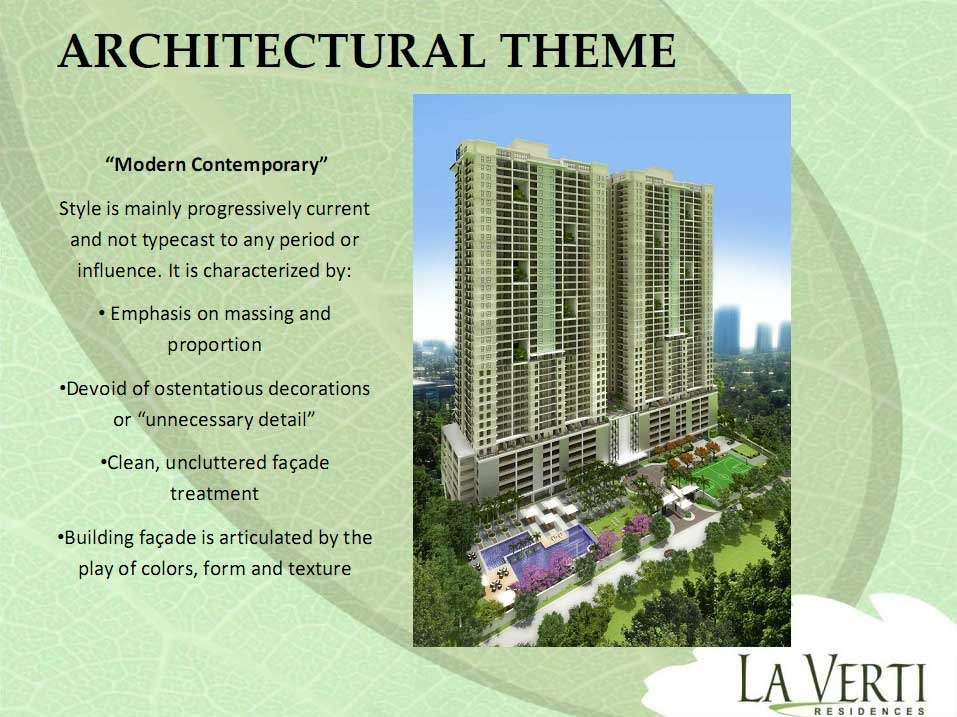 Address                           : 1991 Taft Ave., Pasay City
Land Area                         : 1-Hectare(10,086 SQM.)
Type of Development              : High-rise Residential Condominium
-2 Buildings 41-Storeys each
-35 Residential Floors + 6-Level Parking Podium
Unit Types                        : Studio, 1-BR, 2-BR & 3-BR
Total Units                       : 1,380 Units (690 Units per Building)
Total Parking Slots               : 507 Parking (36.74% or 1:3 Ratio)
Building Footprint                : 40% of Lot Area
Open Space                        : 60% of Lot Area
Price                             : 1.8M – 5M
LOCATION
The  project  is  located  in Pasay City,  bounded  by Donada St. on the West and Taft Ave. on the East.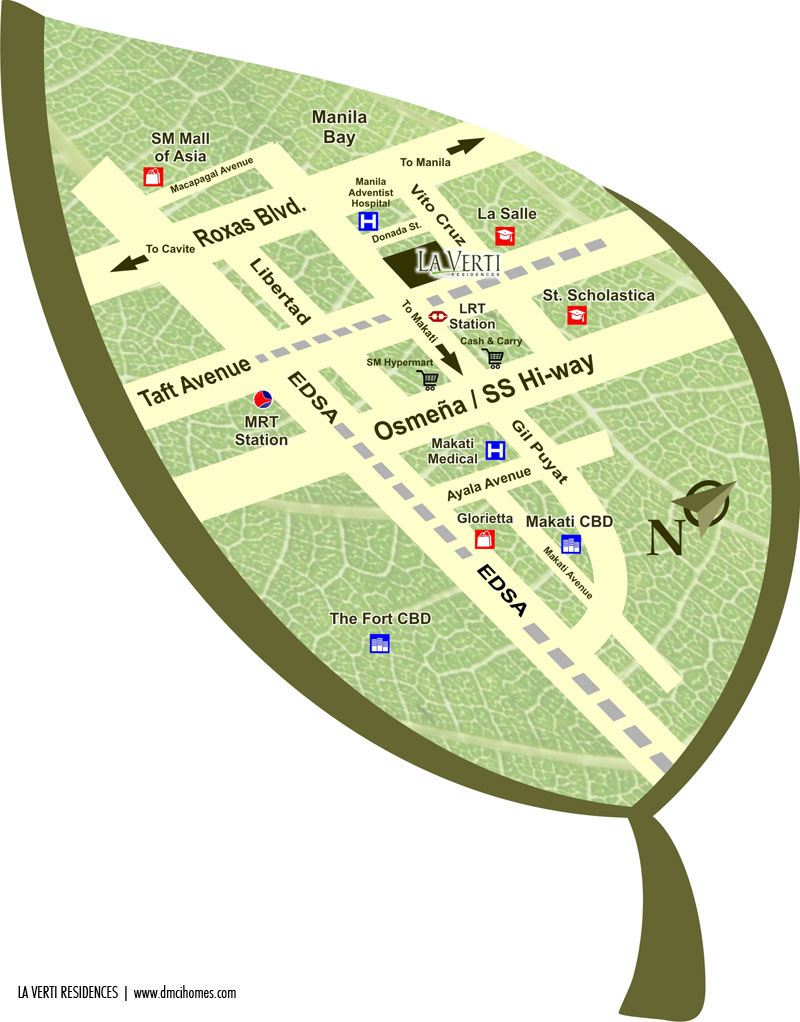 DISTANCES
•    BUSINESS DISTRICT                   •    COMMERCIAL                             •    SCHOOLS
o   Makati – 1.5 km                      o   SM Mall of Asia– 3.5 km                 o   St. Scholastica– 1.2 km
o   Roxas Blvd – 750m                    o   Robinson Malate – 2.7m                  o   La Salle – 1 km
o   Harrison Plaza– 1.3km
•    HOSPITALS
•    Manila Sanitarium– across the street of LVR
•    Philippine General Hospital
•    Ospital ng Maynila
SITE DEVELOPMENT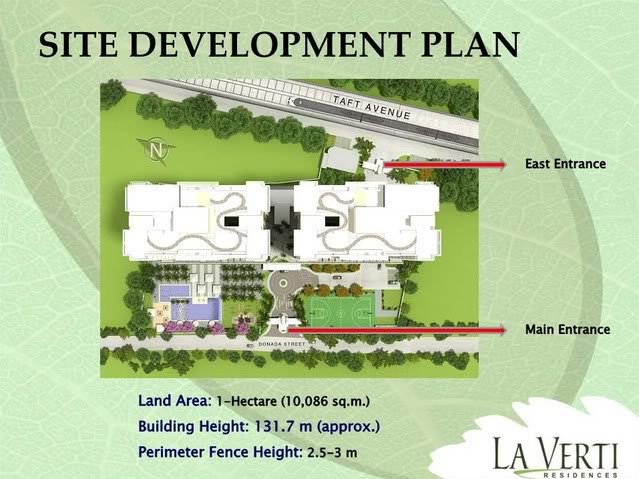 •      The Pasay-Taft-Manila area has a number of condominium developments
catering to students, foreigners and the investor market. Developments in the
area offer mostly studio and one-bedroom unit inventories. These competing
projects usually feature a commercial component within the development but
are limited in terms of open space areas and amenities. Unit areas usually
range within the following:
-Studio:  22-28 sqm          -2 BR:  46-65 sqm
-1 BR:  22-48 sqm            -3 BR:  48-63 sqm
•      Price range for condominium projects in the area range from 1.6M to 2.5 M for
Studio and 1 BR units while 2 BR to 3BR units range from 3M to 6M.
UNIT TYPES AND LAYOUTS
Studio Type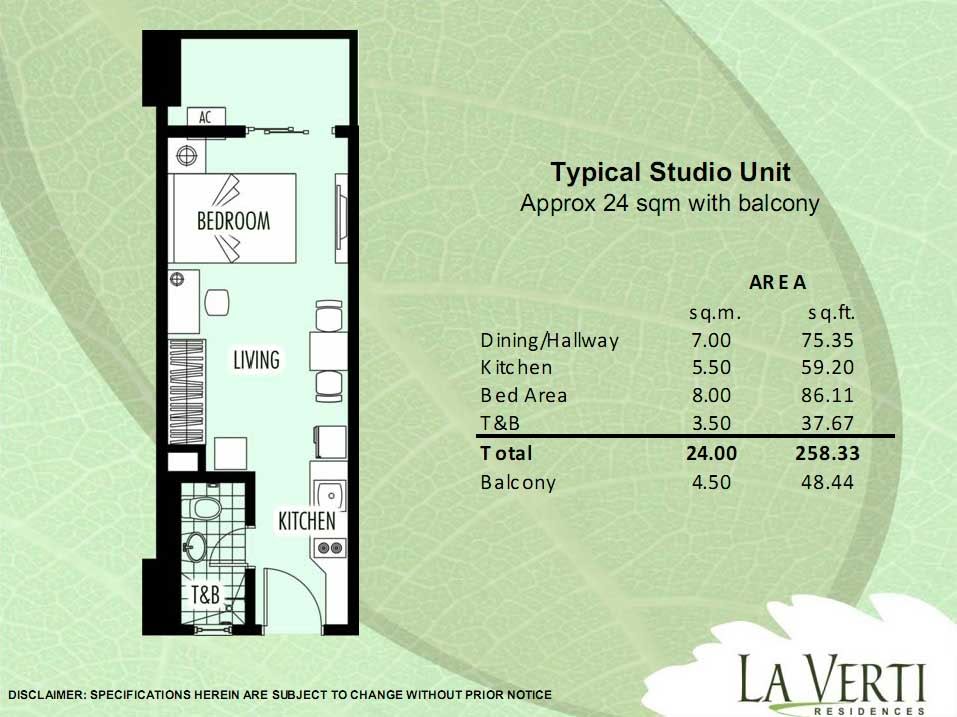 1 Bedroom Type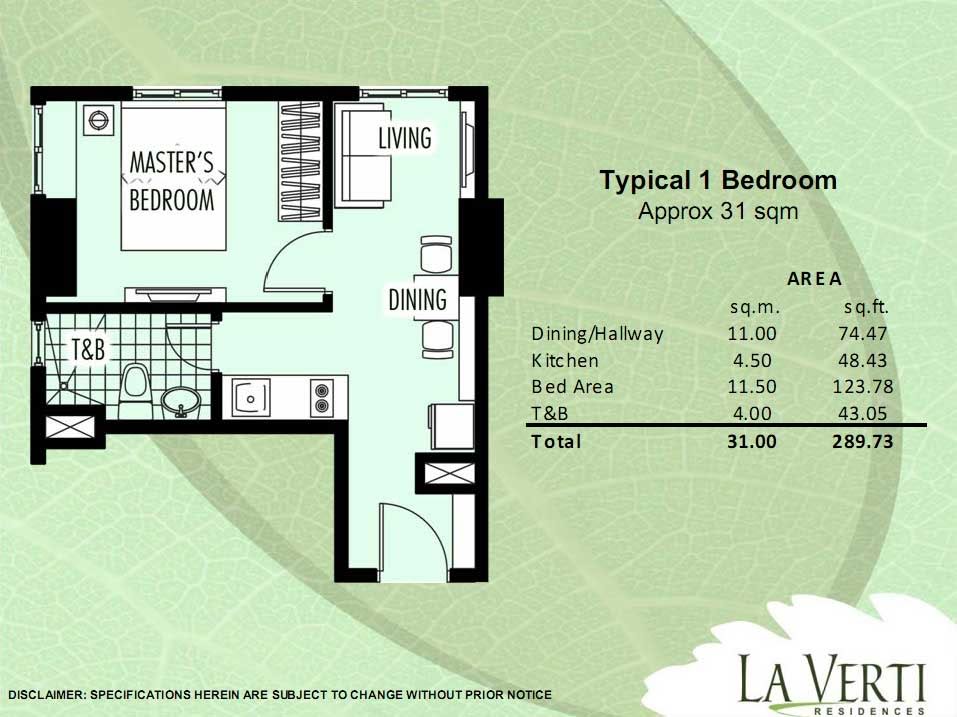 2 Bedroom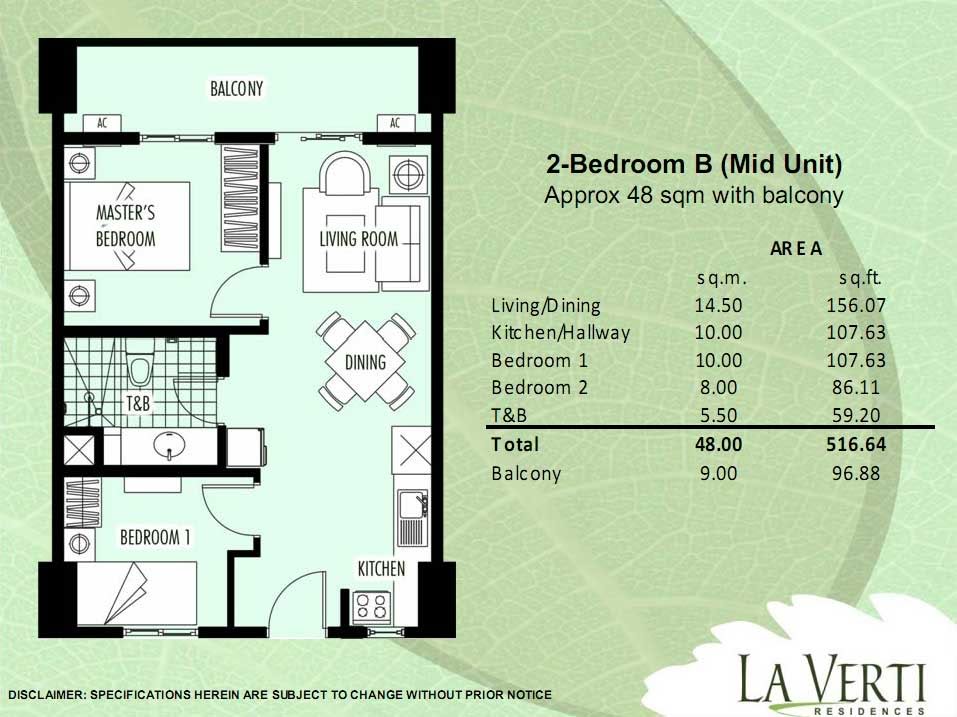 3 Bedroom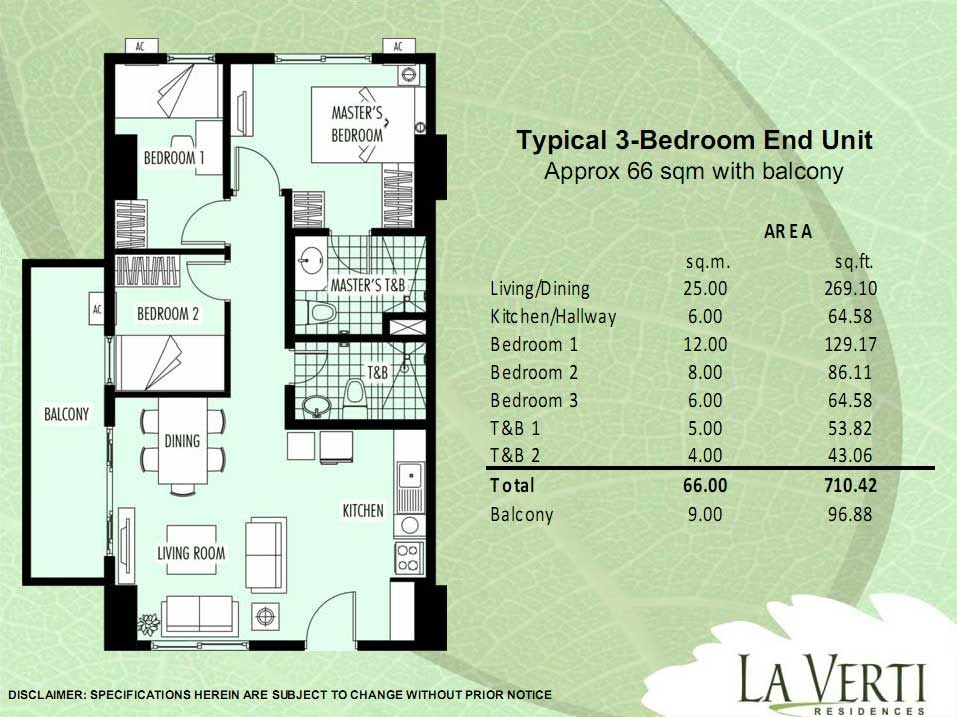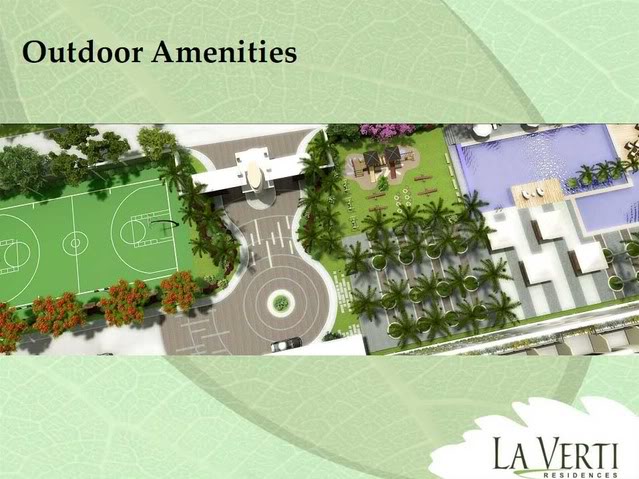 •      Most developments in the area are marketed as ideal halfway homes for
professionals, investors and the academe. Most offer convenience-friendly
services and features designed to make living worry-free and comfortable.
Leasing opportunities and rental potential are also part of these projects'
marketing propositions.
•      Based on a product concept test conducted among probable target market, the
project will appeal to a viable market of end-users and upgraders. The project
will emerge as the first to offer a viable and ideal residential option for families
looking to upgrade to a new home in the area.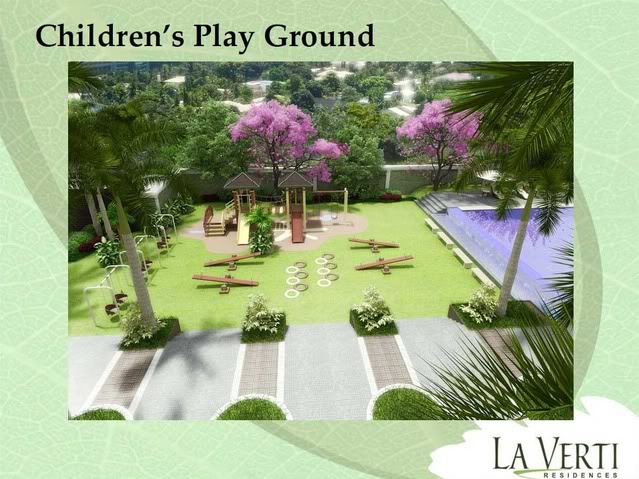 •      The marketing communications slant that will appeal most is one which speaks
to those seeking for "a modern living at its most refreshing".
•      La Verti  is one of the select condominium developments in the area to offer
extensive top-class ground-level amenities providing a resort-feel.
•      La Verti can also claim an advantage in terms of exclusivity and security as the
project is a fully-gated community with amenities and shops available only to
residents.
•      The La Verti has one of the most competitive prices in the area in terms of
value for money (price/sqm, amenities & location, quality).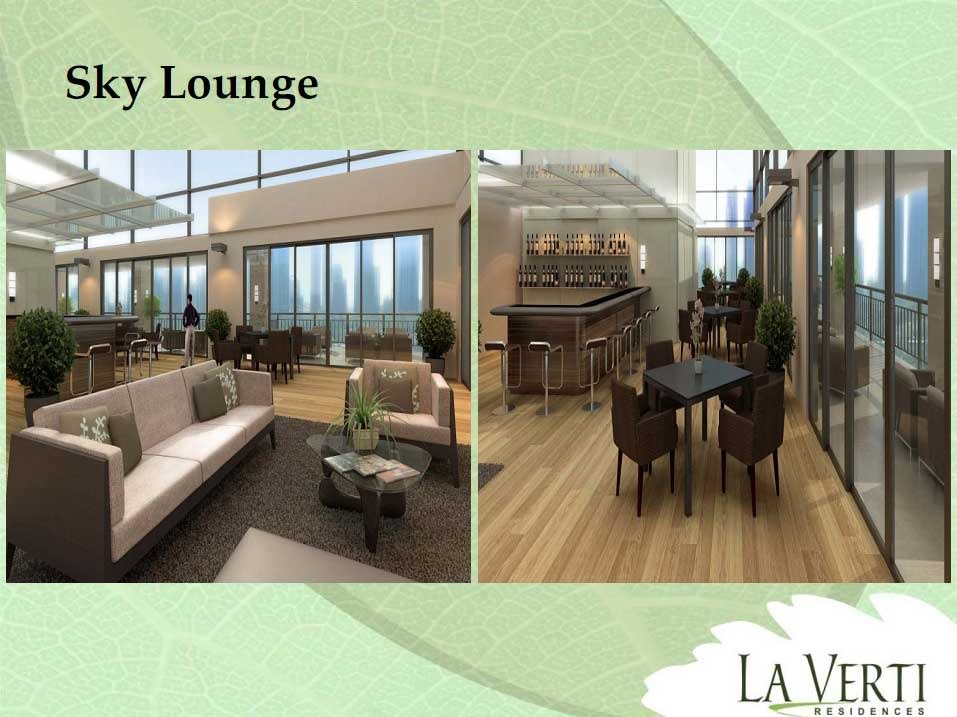 VALUE PROPOSITION
WHAT       : An exclusive high-rise residential community offering fresh & ideal
lifestyle options
HOW        : Through an innovative mix of resort-type features and hyper-
amenities
WHO        : For the career-driven yet family-oriented, moderately-earning Filipino
decision-makers
WHY        : Desiring a comfortable, secure and high-quality home
WHERE      : Located in the central Roxas Blvd-Taft/Pasay-Buendia area
WHEN       : In a time of increasing cramped and limited condominium spaces
REASONS TO BELIEVE
Breathing spaces through Landscaping and the
LUMIVENTTE DESIGN TECHNOLOGY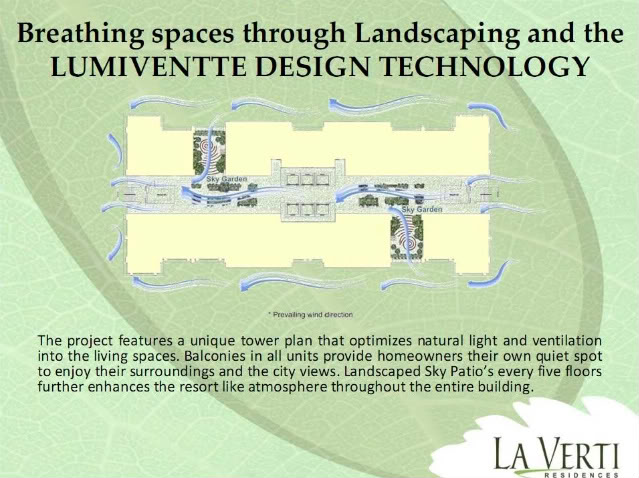 The project features a unique tower plan that optimizes natural light and ventilation
into the living spaces. Balconies in all units provide homeowners their own quiet spot
to enjoy their surroundings and the city views. Landscaped Sky Patio's every five floors
further enhances the resort like atmosphere throughout the entire building.
Modern and Innovative Expressions for
Varied Lifestyles
Here, residents will discover that resort like and medium density-living can
merge with innovative building design features and well conceived space
planning which in turn caters to the home-seekers' perception of urban high
rise living.
First Rate Amenities and Open Spaces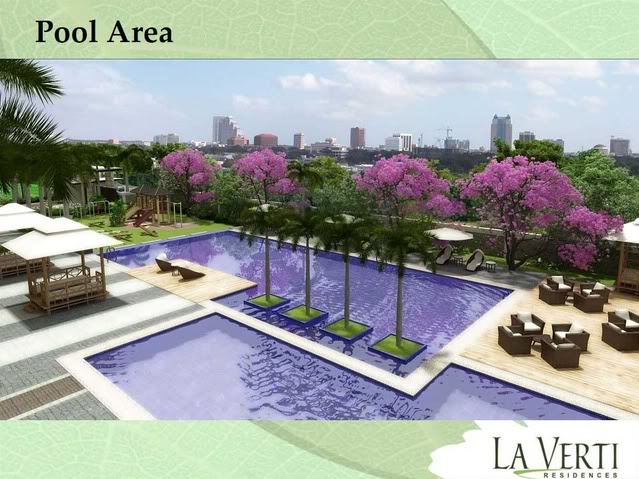 With a 40:60 building footprint to open space ratio, homeowners will experience a welcoming ambience
as they are greeted, upon entering the property, by ground level amenity areas and expansive open
spaces not found in other condominium projects. First rate amenities include, gazebos, adult swimming
pool, kiddie  pool, tree court, playground, basketball court, fitness gym, game room, videoke  room,
function hall, lounge / open social hall, podium garden, deck garden and the Sky Lounge.
From the hotel –  like lobby, landscaped open spaces, social halls and entertainment areas to the
topmost floor, social interaction, career and lifestyle enhancements for residents are possible all year
round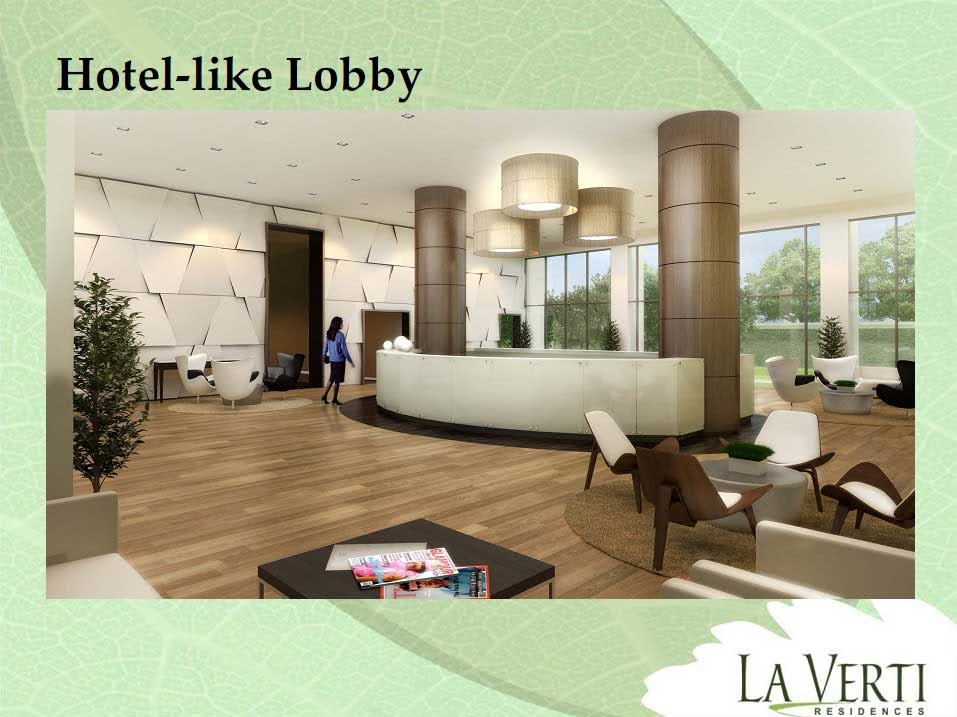 Strategic Location and City Skyline Views
Location is ideally situated at the converging point of Manila-Pasay-Makati. The
project is at the heart of the city and within striking distance of all landmark cultural,
commercial, business and educational locations in the metro.
Aside from the Makati Central Business District, commercial establishments such as
Robinson's Malate, SM Manila and the Mall of Asia are no more than 3.5 Kilometers
away. Educational Institutions such as the De La Salle University, UP Manila and St.
Scholastica  along with prominent cultural and arts destinations, the CCP Complex,
Intramuros, museums, the Roxas Blvd. district and the Rizal Coliseum are all within a 2
kilometer reach.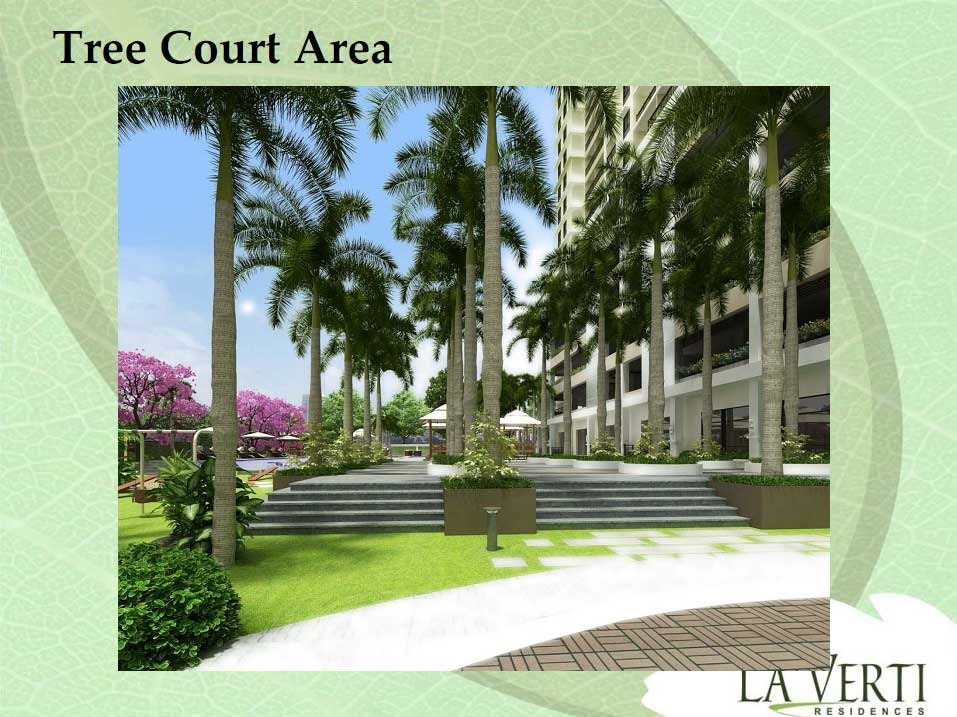 A Worthwhile Investment
Centrally located, travel time from home to commercial and lifestyle hubs or
business establishments are minimized thus saving up on gas mileage. Its
close proximity to schools provides the option of renting out their units to
students or professionals working in the immediate area. Families with
children studying or working in the area have the option as well to use their
unit as halfway homes. All these benefits are well within an affordable pricing
package indicative of the developer.
Efficient Property Management within a Secure Environment
To free residents from everyday worries, a property management team shall
oversee the management of daily services, upkeep and maintenance            of
perimeter grounds and building features, all within the comforts of a secured
enclave in the city.
AMENITY CONCEPT
The building is purposely built to occupy only half of the lot in order to give way to having a large open space for outdoor amenities.
This aims to provide a genuine Resort Environment within the City  where residents can experience a Park-Like Atmosphere with amenities that open  up to the sky and keep them in touch with the outdoors.
ARCHITECTURAL THEME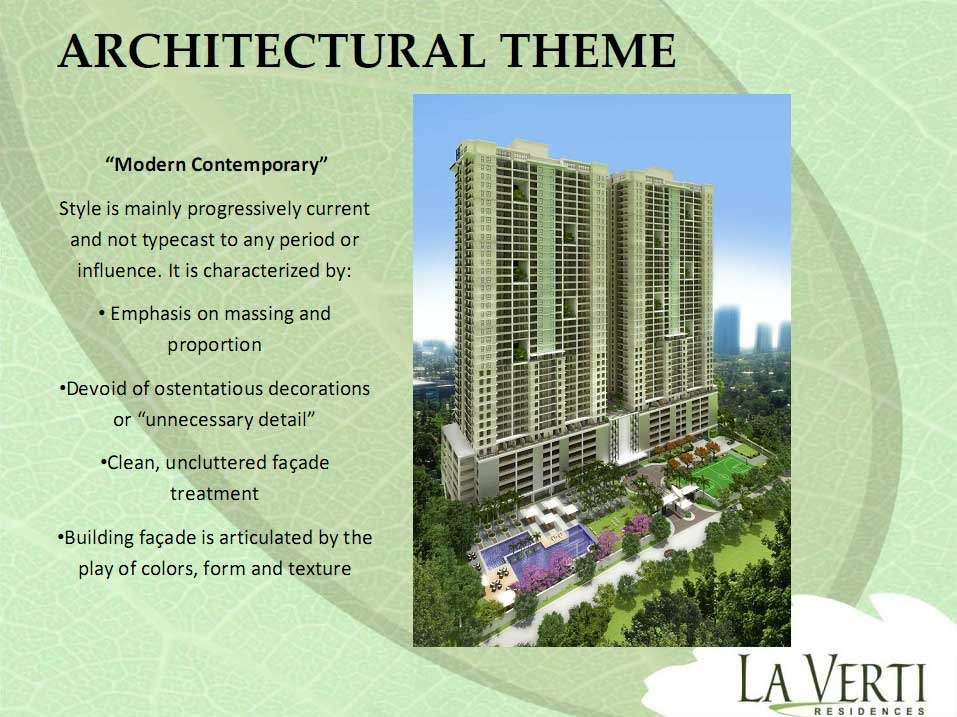 "Modern Contemporary"
Style is mainly progressively current
and not typecast to any period or
influence. It is characterized by:
• Emphasis on massing and
proportion
•Devoid of ostentatious decorations
or "unnecessary detail"
•Clean, uncluttered façade
treatment
•Building façade is articulated by the
play of colors, form and texture
It is breakthrough system by DMCI Homes that is built to maximize natural light and air-flow into
every unit promising comfortable and healthier living everyday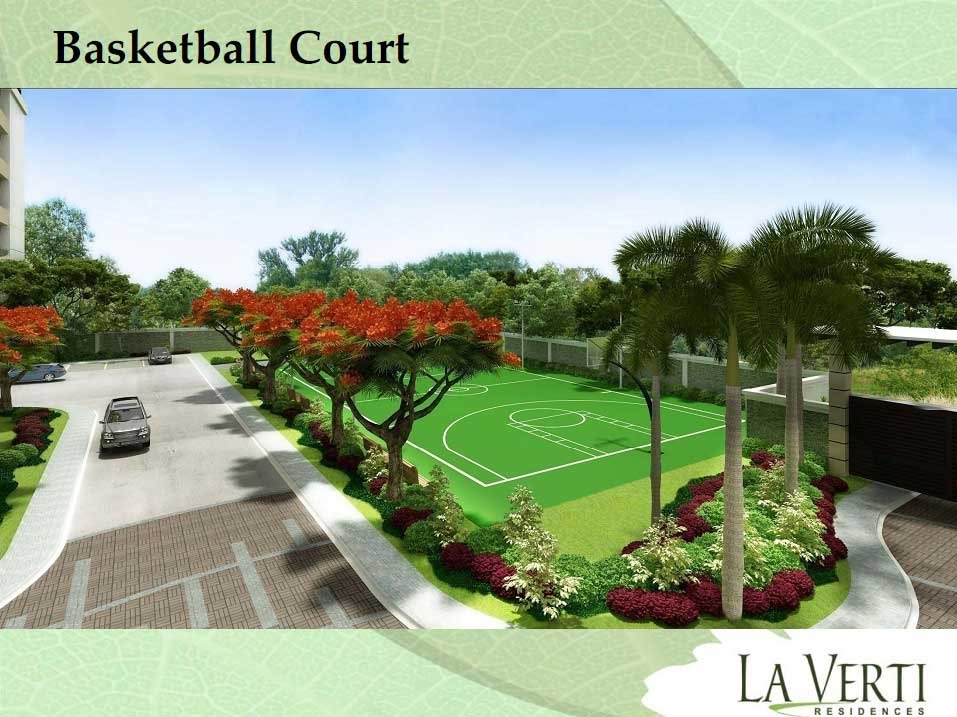 OTHER BUILDING FEATURES
•CCTV in common areas
•Wi-Fi ready indoor amenity area
•Provision for individually metered utility and cable connections for each unit
•Stand-by power generator
•Automatic fire sprinkler and fire suppression system
•Fire alarm system
•Centralized mail room
•Single loaded hallway
•5 High Speed Elevators per bldg
DEVELOPMENT FEATURES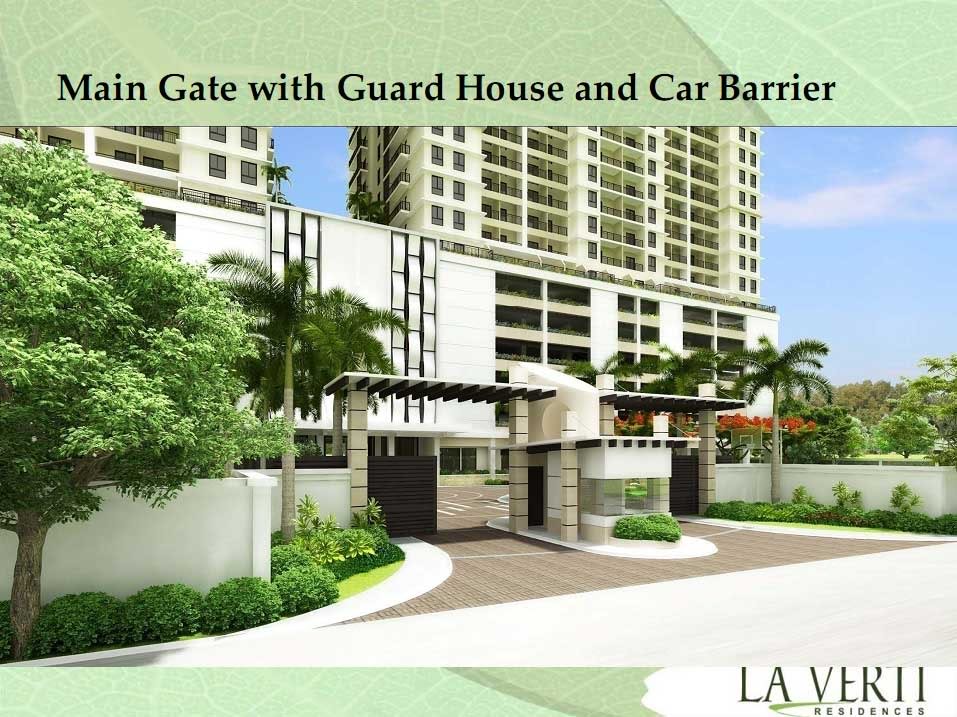 Main Gate with Guard House and Car Barrier
Laundry Pick-up Station
OTHER DEVELOPMENT FEATURES
• Perimeter fence
• Garbage holding area
• Water Station
• Security Office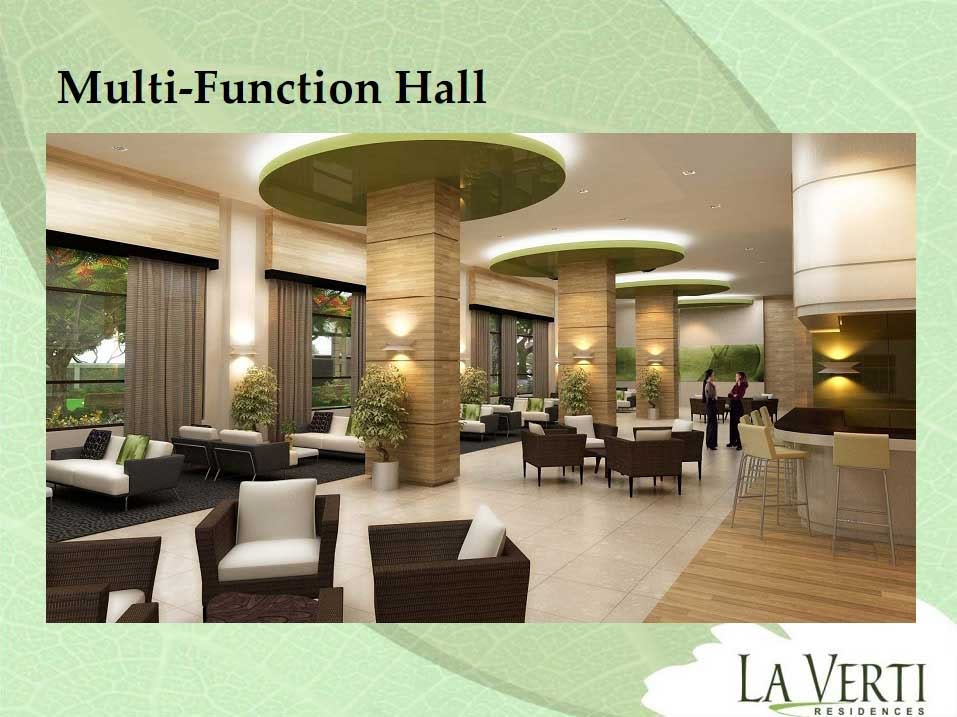 PROPERTY MANAGEMENT
SERVICES
• Security for common areas
• Utilities application assistance
• General maintenance of common areas
• Acts as liaison between the developer and the owner
• Events organizing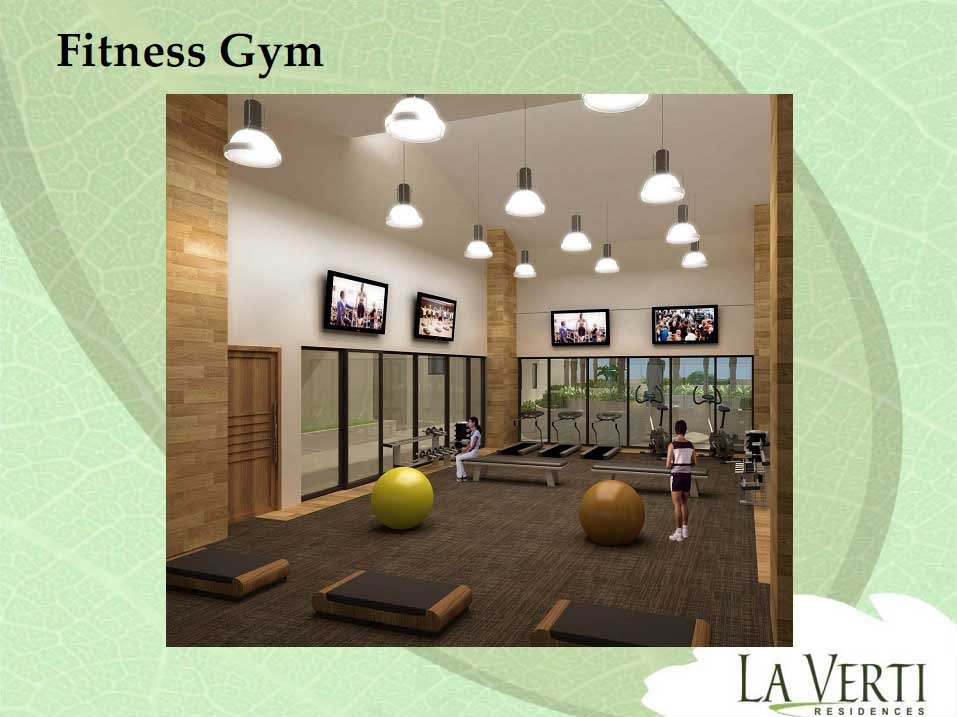 WHY CHOOSE LA VERTI?
• The only exclusive and highly-secured residential high-rise tower in Taft Avenue.
• The only property that offers Lumiventte Technology.
• The property offers 40:60 building footprint to open space ratio.
• The property offers single loaded hallways, Atrium Parks and Sky Patios.
• La Verti is one of the select condominium developments in the area to offer
• extensive top-class ground-level amenities providing a resort-feel.
• The La Verti has one of the most competitive prices in the area in terms of
value for money (price/sqm, amenities & location, quality).
• Quality turn-over finish.
• Presence of Property Management group upon turnover of unit .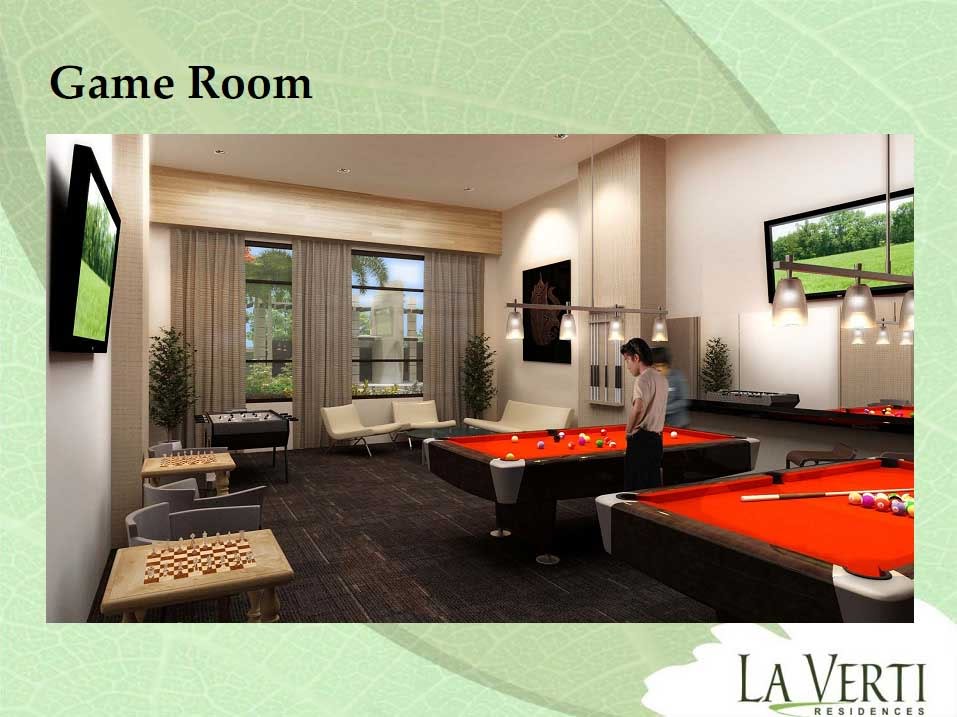 La Verti…
Your Green Getaway in the Urban Jungle
…. It's a home surrounded by greenery where natural light
….
and air, flow everywhere, with resort-style amenities and
modern conveniences within reach. It's the perfect setting
for those who want to change and enhance their way of life.
…. Despite all the commotion around us, you know you have
….
nothing to be stressed about. Because when you come
home, you know that the important people and things in
your life are around you in a relaxed and comfortable
atmosphere.
…. Take a breather from the exhausting daily grind. Come
….
home and relax in a place where nature and modern
conveniences meet. It's a new way of living —recharge and
revitalize your life here!
….Where life takes you to a refreshing direction.
FOR DIRECT BUYERS ONLY
+63 (917) 844-3580 (Globe, Viber, WhatsApp)
+63 (947) 899-9297 (Smart)

We Respond IMMEDIATELY, Send Us a Message Below